This is the configuration of EAP and will occur the first time Estate Agent Pro is run. The following shortcut will have been placed on your desktop.
1. Double click on the EAP shortcut which will display the registration screen. The trial installation is valid for two weeks and will display the following dialog each time it is run: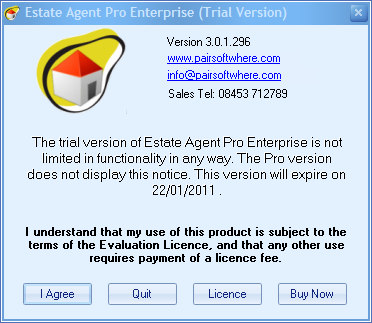 2. You must click on the "I Agree" button in order to continue. Once the two week trial has expired the following Registration screen will be displayed.
Once you have purchased the software you will be requested by EAP technical support to send us the ID displayed, in this case F47FA179. The easiest way to do this is to click on the Email link support@pairsoftwhere.com. You will be emailed back a release code which you should insert in the Enter Code box. You will need to confirm that you have read the EAP Technical Specification before you can click on the Register Software button. If the release code entered is incorrect or the expiry date encrypted in the release code has been reached the following dialog will be displayed.
Click on the OK button to proceed. If the release code is incorrect you will be given another opportunity to enter it.
3. The Company Info screen will be displayed next.
4. Enter the information requested and then click on the Continue button. The registration is now complete.

You should use the town you are located in for the branch name.
5. The EAP PDF Printer drivers will then be installed a dialog box will be displayed showing the progress.
6. You will be asked to confirm that you will allow these drivers to be installed. Please click on the Yes button.
This completes stage three and the installation of EAP. Please ensure that you study this help file for further information on how to use EAP. Please refer to the help file for instructions on using Estate Agent Pro Enterprise